Entrepreneur in Residence
Entrepreneur in Residence
The RCIE Entrepreneur in Residence (EIR) program connects experienced entrepreneurs and business leaders to student entrepreneurs at Rowan University. RCIE EIRs have a wealth of industry knowledge and expertise and play a critical role within the Rowan community by helping startups succeed by providing guidance, mentorship, and access to resources and networks.
How can an EIR help me?
Guidance and Mentorship. 
EIRs provide valuable guidance and mentorship to new, current and seasoned entrepreneurs, helping them navigate the challenges of starting and scaling a business.
Industry Expertise. 
EIRs bring a wealth of industry knowledge and expertise, providing valuable insights into market trends and emerging technologies.
Network Building. 
EIRs have extensive networks of contacts in their industries, which they can leverage to help Rowan students and startups connect with potential investors, partners and customers.
Access to Resources.
EIRs often have access to a wide range of resources, such as funding, office space, and legal and accounting services, which can be invaluable to student startups.
Recruiting Talent.
EIRs can help student startups recruit top talent by providing guidance on hiring and talent management, as well as by tapping into their own networks to identify promising candidates.
Know Before You Go
Meetings are scheduled in 30 minutes intervals and are one on one between the EIR and student. Meetings are reserved for students interested in discussing their startup, business ideas, entrepreneurial goals, and more. Students should come prepared with an idea of what they would like to discuss, questions for the EIR, their pitch deck, etc. While casual attire is acceptable, we encourage students to dress to impress for their meetings and refrain from sweatshirts, sweatpants, etc.
Please email RCIE Assistant Director Jessica Vattima with any specific questions.
Meet Rowan University's Inaugural Entrepreneur in Residence
Joseph Cosgrove | President & Chief Executive Officer, Leiters Health
Empowering leader who can build and inspire high-performance teams to meet or exceed stretch goals.  
Skills & Areas of Expertise
Building a Team, Company Culture, Scaling Ventures, Social Impact, Strategic Partnerships, Healthcare, Marketing, Market Strategies, Business Development, Branding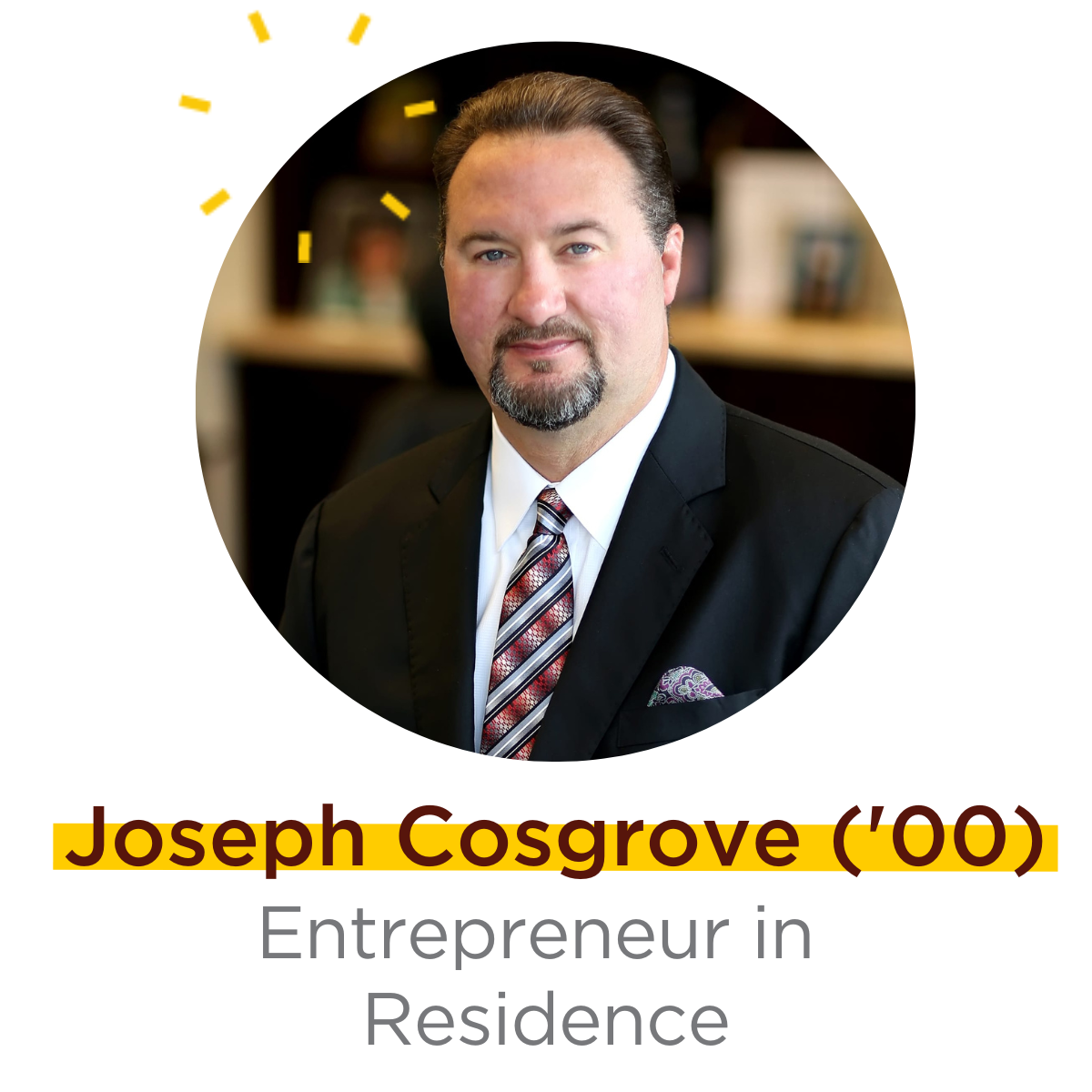 About
Joseph Cosgrove is a forward-looking, pioneering, and transformative senior executive offering authentic leadership skills and progressive experience in diversified life sciences at small to Fortune 500 companies. Cosgrove excels at crafting innovative strategies, creating a shared vision, and architecting organizations for explosive profitable growth in ultra-competitive markets.
Cosgrove is a seasoned healthcare executive with over 30 years of experience in the industry. He is the former Chairman, President and CEO of Pentec Health, an industry leader in providing patient-specific medications in dialysis centers and in-home settings. Presently, Mr. Cosgrove is President and Chief Executive Officer of Leiters Health, a leading provider of pharmaceutical outsourcing services. Throughout his career, Cosgrove has demonstrated a commitment to innovation and excellence in healthcare and passion for giving back to the next generation.
Cosgrove has received many professional accolades, including Rowan University Distinguished Alumnus of the Year (2022), recognition as the Chapter Honoree of Rowan University's Beta Gamma Sigma Honor Society (2019) and Marcum Innovator of the Year (2016). He was named a Philly 100 CEO Hall of Fame Society inductee and received the organization's Founder's Distinguished Achievement Award, as well as the National Kidney Foundation Leadership in Business Award (all 2015). Ernst & Young honored Cosgrove as Entrepreneur of the Year (2012) and SmartCEO presented him the Future 50 Award (2012) and Circle of Excellence Award (2011).