Academics
Academics
The School of Innovation & Entrepreneurship (SIE) was created to bring an entrepreneurial mindset to all disciplines. Our mission is to educate Rowan University students to understand global economic, social, political and environmental events, and recognize problems and opportunities as they impact emerging enterprises, non-profit entities and corporate extensions. Rowan's entrepreneurship program earned recognition by The Princeton Review and Entrepreneur Magazine as a Top 50 in the U.S in 2022. For 2023, that study boosted the University's national ranking six places to #44 and named it #7 in the Northeast.
Rowan entrepreneurship students are equipped with the skillset and mindset needed for success, regardless of whether their goal is to launch a technology company, a social enterprise or nonprofit, a small business or work as an intrapreneur in a large corporation or family business.
Rowan entrepreneurship graduates think differently about problems and work in a lean and efficient way to develop high-impact solutions. Our students are encouraged to understand entrepreneurship and intrapreneurship from global, national, local, firm and individual-level perspectives and to learn the dynamics through which individuals, teams and firms recognize opportunities and decide to take action to create, scale and lead new ventures.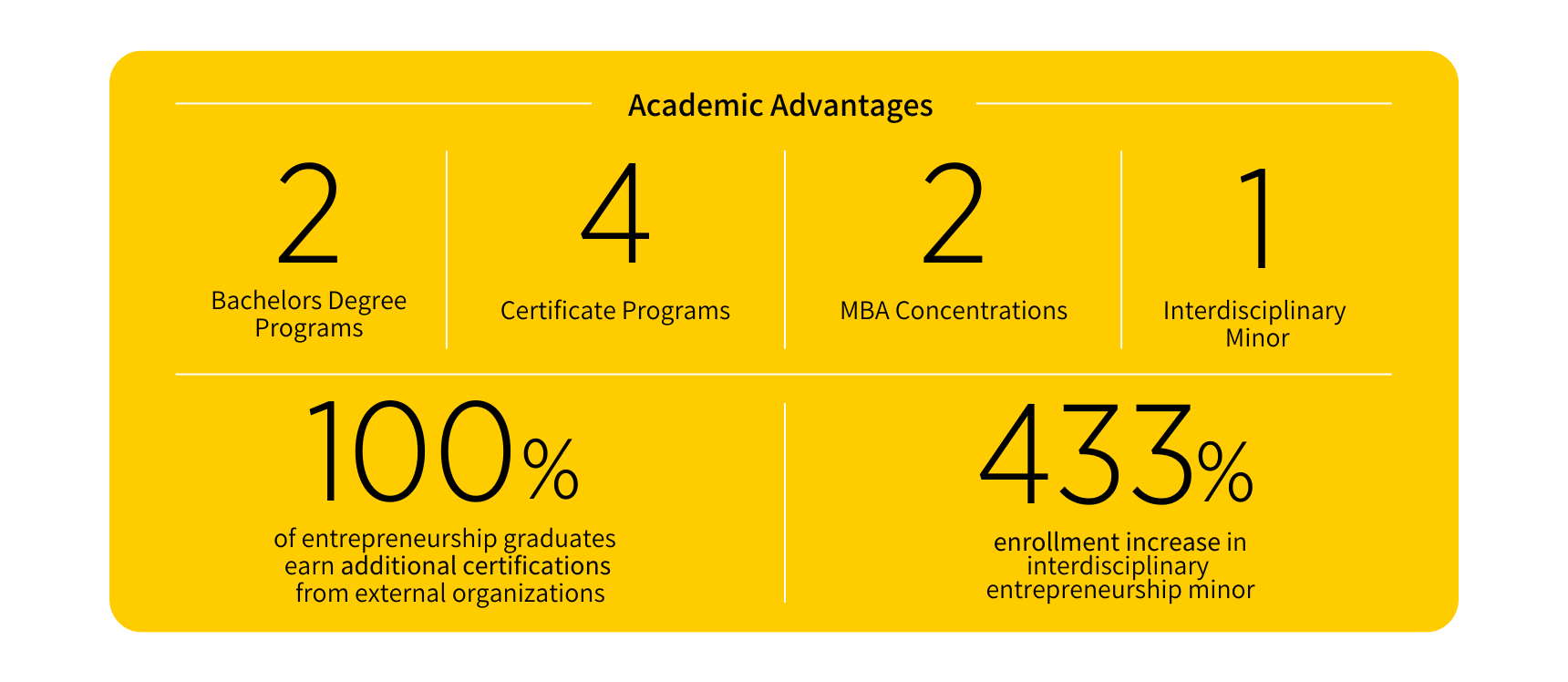 Diverse faculty experience
Rowan's entrepreneurship faculty are student-focused and action-oriented. Our faculty are globally recognzed and 100% have real world experience as entrepreneurs, founders, owners or board members. Our faculty engage in leading-edge scholarship, having authored multiple books and published in the business world's most elite journals. 
Achieving alumni
Many Rowan entrepreneurship graduates have gone on to start their own ventures including Leadnomics, Trinity Packaging Supply, TroveHunt, Tassl, Oasis Illusions, Halfday Tonics, East Coast Jewels, Devito's Lawn Care, Arke Aeronautics, Feelin' Blue and more. Others have chosen to go the corporate route and be intrapreneurial at companies including Amazon, Lockheed Martin, Mars, Campbell's Soup, Merrill Lynch and ModSpace. Recently we've seen a surge of Rowan entrepreneurship students interested in changing the world for the better, so recent graduate activity in the social entrepreneurship and nonprofit sectors continue to increase.
Browse below to learn more about the academic programs offered through the School of Innovation & Entrepreneurship.